The concept of an open house is highly applicable in many daily life domains such as industrial, real estate, school, and university. Before discussing the open house sign in sheet. It is important to understand the concept of an open house. Here, answers to the following key questions will be provided that arises in mind after listening to the word "Open House";
What is the concept of Open House?
What is it related to?
Why is it important to organize an open house?
How it helps the audience and organizers?
Frequently Asked Questions (FAQ)
What is an open house sign-in sheet?
An open house sign in sheet enables the real estate agent to collect the basic contact information of those people who are attending the open house. The contact information is requested on a direct means of contact either through a phone number or an email address.
How can you Use Your Open House Sign-in Sheet to follow up?
Below are a few things you can do for follow up;
Firstly, arrange the contact list and insert all the information in CRM (customer relationship management) software. Some CRM software contains presets group that will remind you to follow up on your leads.
Next, the day after the open house contact your leads through email. Moreover, you can ask them how you can help them with their home-buying needs. During the open house, if you had personally spoken to them, then you can also personalize your message to them.
You can also contact through a phone call if your leads don't respond through email for a certain number of days.
Prepare the report about the open house. The report includes the number of people who attended the open house, the feedback about the house, and other relevant information.
What are the uses of an Open House Sign-in Sheet?
There are several uses of an open house sign-in sheet;
As long as real estate agents follow up on the leads by using the contact information on the sign-in sheets they can boost their sales or getting new clients.
The information on it is also used as a tool for marketing.
When you become able to contact the potential leads on the sheet then by using the experience and expertise you make a grand impression on all the things related to real estate. By doing this, you can convince your client to work with you.
By having a comprehensive real estate sign-in sheet that the customers will be willing to fill in, you can be able to learn a great deal about your potential clients.
With the help of the information you have gathered in the sheets you can become a more efficient real estate agent.
What are the different types of Open House Sign-in Sheet Templates?
There are three different types of templates that will help you start building your own open house sign in sheet template;
The basic template: If you need just basic information about the customers for an open house then print out a basic template. This template contains information such as the customer's name, address, contact number, and email address.
The basic plus a simple survey: Likewise basic template it also contains the basic information about the customer plus a survey that helps the agent to find the answers to the most basic questions generally asked by potential leads.
The detailed template: If you want this type of template then you have to make a detailed format such as a questionnaire. You have to provide the customers with a couple of multiple-choice queries that will provide you helpful information on the customer's preferences and their present situation.
What is an Open House Sign in Sheet?
Open House is nowadays a key business strategy and a modern kind of marketing approach. It means to invite the potential buyers of products or services to see the product for convincing them to buy the product. This concept is similar to advertising and launching a new FMCG product in a booth or the main shelf of a mega-store. So, potential customers can be attracted to ask about the product details. 
There are many kinds of open house events in different domains. The most common ones are;
Real Estate Open House sign in sheet: It's an event that is organized for a specified period of time in which a dwelling or house is set to open for visiting by potential customers.
School or University Open House: It's an event that is organized for a specified period of time in which all departments of the school or university is set to open for students to visit, get details about programs, meet the teachers, see the facilities and labs. It helps students to have a view about the life they are going to enter. So, they can better decide and clear concepts about their target programs. You may also like multiple choice test templates.
Industrial Open House: It's an event that is organized at the university level in which companies related to programs offered by the university are invited. University presents its product (Students) to potential buyers. Companies organize interviews to hire professionals to make them a part of their organization.
Real Estate Open House:
A real estate open house is the most commonly organized event everywhere in the world. There are many benefits of the open house such as it's a face-to-face interaction between potential customers and sellers and it highlights the issues or concerns of realtors about the house or dwelling through a feedback system. You may also see petty cash log templates.
That's why real estate giants focus more on organizing an open house event than advertising their house or dwelling in a newspaper or on digital media. Open house event is organized for a specified period of time that is announced and advertised via newspapers, social media platforms, and TV channels To attract a potential audience for the event, the following are the simple guidelines to understand;
Identify potential customers for the house or dwelling.
Choose the most suitable timeline for events keeping in view the best availability of potential customers.
Go for the best approaches to get in contact with the identified key customers.
Buy the databases for a targeted community of customers and contact each person using email at least 2 weeks before the event.
Make a formal invitation call to customers 1 week before the event to make them interested in the event.
Develop a rigid follow-up system to stay in touch with customers to know about their current interest in visiting an open house. The best approach in this regard is to make use of Open House Sign in Templates.
Door to door invitation strategy must be followed for neighbors.
Successful implementation of all the above guidelines will definitely help to attract the maximum audience for the event. Now the next step is to make attracted customers fill in a simple basic information sheet about their visit to open house events. The purpose of the Real Estate Open House Sign-in Sheets to make a schedule of a visit to a particular house or dwelling for a warm welcome and knowing about the interest level of the customer. It carries a piece of basic information about visitors which helps organizers to get in contact with the visitor to ensure the visit. You should also like business memo templates.
Online Open House Sign in Sheet:
Open house sign in sheets is really important to keep track of visitors' interest in the property and visiting the open house event. It helps at the follow-up stage of communication with potential customers who showed their interest in the event. This sheet includes contact information and general questions to analyze customer interest. There Isa number of ways to get this sheet filled in such as a representative self-filling, via email, or online forms. You may also like room rental agreement templates.
Online open house sign in sheets are the most reliable and easier to analyze as a comprehensive summary sheet can be generated from all the responses to see how many people are interested to visit a particular house and which day of the event is having maximum visitors. A link to the sheet is sent to the customer via email. The following information must be present and collected via these online open house sign in sheets;
A basic introduction of the business must be present on the sheet such as a pattern of the company's letterhead.
Basic information about the event must be present on the sheet to assist customers in filling the data. Like event days, timing, and house numbers.
Basic information of the customer must be collected like customer name, address, phone number, and email address.
To analyze the customer interest, multiple-choice questions must be asked to make sure customers respond. Questions such as the current real estate needs of the customer or where they came to know about the event should be present on the sheet.
These sheets must be designed as printable open house sign in sheets so that the online response of each customer can be separately printed and recorded in a separate file to carry with them on their visit to the event. At the back of this sheet feedback of the customer about the visit must be captured for getting maximum output.
Editable Open House Sign in Sheet PDF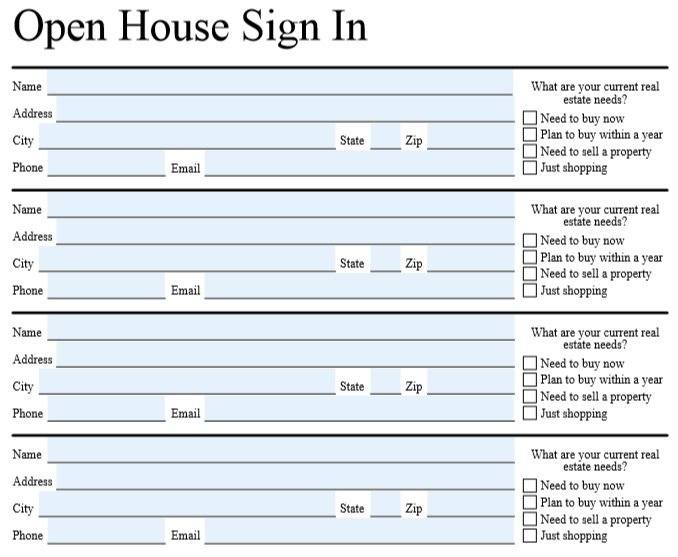 Download
Real Estate Open House Sign in Sheet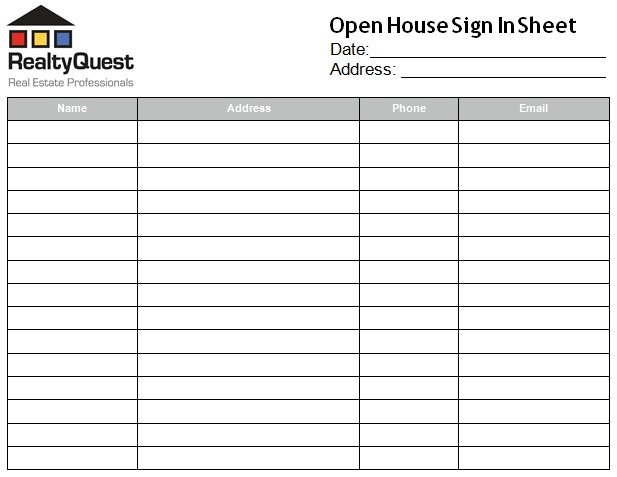 Download
Simple Open House Sign in Sheet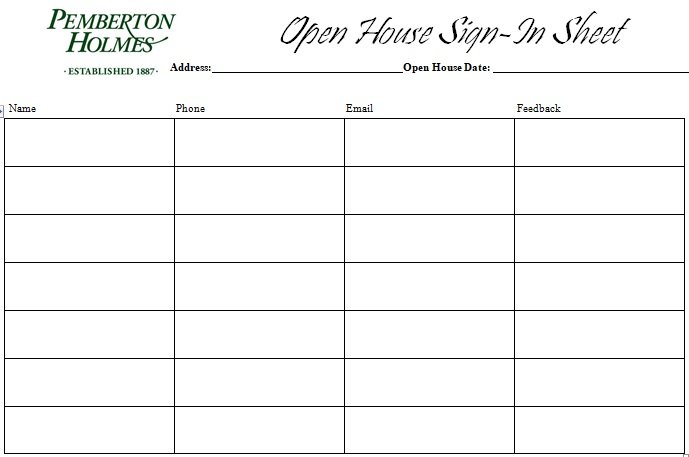 Download
Printable Open House Sign in Sheet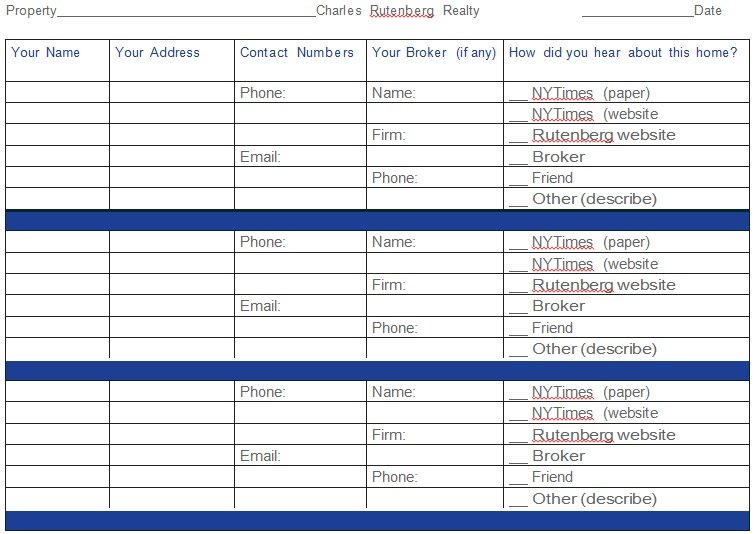 Download
Realtor Open House Sign in Sheet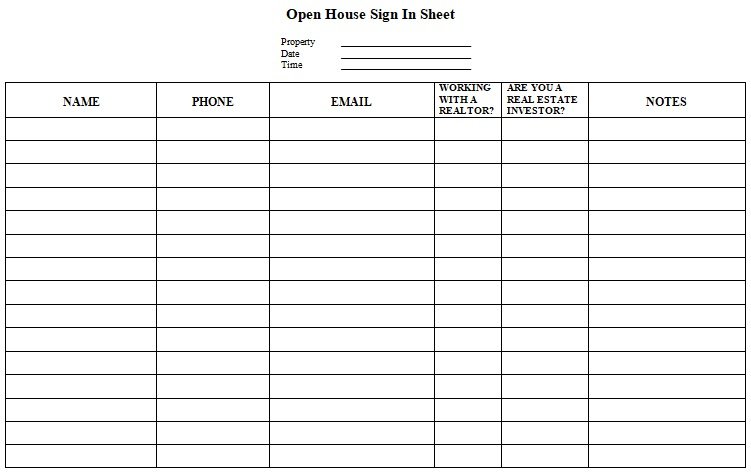 Download
Free Open House Sign in Sheet PDF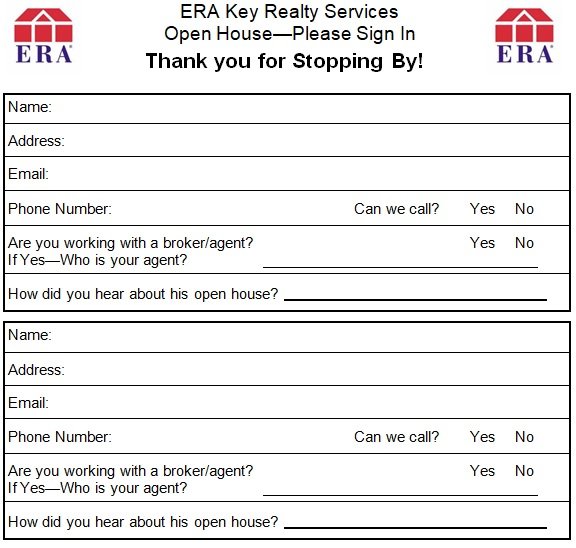 Download
School Open House Sign in Sheet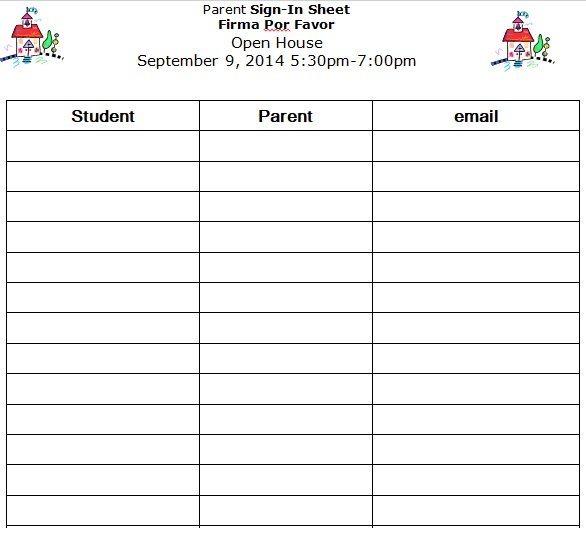 Download