Petty cash or a petty cash fund is a small amount of cash available in hand for paying minor expenses such as employee reimbursements or office supplies without writing a check. These small expenses are recorded in the company's general ledger expense accounts when the petty cash log template is replenished to the decided float level.
As petty cash provides convenience for minor transactions for which issuing a bank cheque is considered unacceptable or unreasonable. The amount of cash that a company considers petty cash vary by company. It may be in the range of 5$ to 20$. Following are the few examples of payments made from petty cash; You may also check business memo templates.
Office Supplies
Reimbursement to an employee for small work-related expenses such as meeting refreshment, official local travel or laptop bag pack payments.
Special cards for customers
Flowers for VIP guests
Custodians are appointed to oversee the petty cash fund with the help of petty cash template excel sheets. It's a duty of custodial to dispense funds and ask for replenishment as per rules and regulations set by the company. Petty cash custodians reconcile petty cash fund periodically to verify the balance fund is correct.
When the balance falls to a preset level, the custodian launches a request for replenishment. Custodian provides petty cash log, voucher and receipts at the time of replenishment of new funds. Simple petty cash templates used by custodians for keeping record and management of petty cash fund. You may also like payroll template.
Petty Cash Voucher:
Petty cash custodian keeps a record of each transaction made through petty cash fund. For this purpose, petty cash vouchers are used to record below information of each payment made,
Voucher Number
Payment For
Date
Attached Receipt approved by the authority
Another voucher is used with petty cash form template to request for the replenishment of petty cash funds. This voucher carries information such as date, details, float, voucher number, cash in, cash out and balance.
Petty Cash Log:
The petty cash logbook is a weekly or monthly summary sheet which represents general information about each transaction made through petty cash fund. Petty cash log printable sheets are easily available, filled on a daily basis through vouchers.
These are kept up-to-date to verify remaining cash in hand. For the reconciliation process of petty cash, it is ensured that the remaining balance of petty cash must be equals to the float minus total reimbursements made during the time frame having attached details of each transaction in form of vouchers as well as receipts. In case of any minor variations, the source of discrepancy is identified and corrected. You may also see daily checklist template.
Petty cash log example sheet can be made using excel which represents the following information;
Title (Petty Cash Log)
Time Frame (Week, Month or Date-Date)
Date of Transaction
Voucher Number
Detail of Payment
Cash In
Cash Out
Balance
Total Petty Cash Left (Last value of balance column)
Approved Float
Top-Up Amount (Approved Float minus Total Petty Cash Left)
Professional Petty Cash Log Template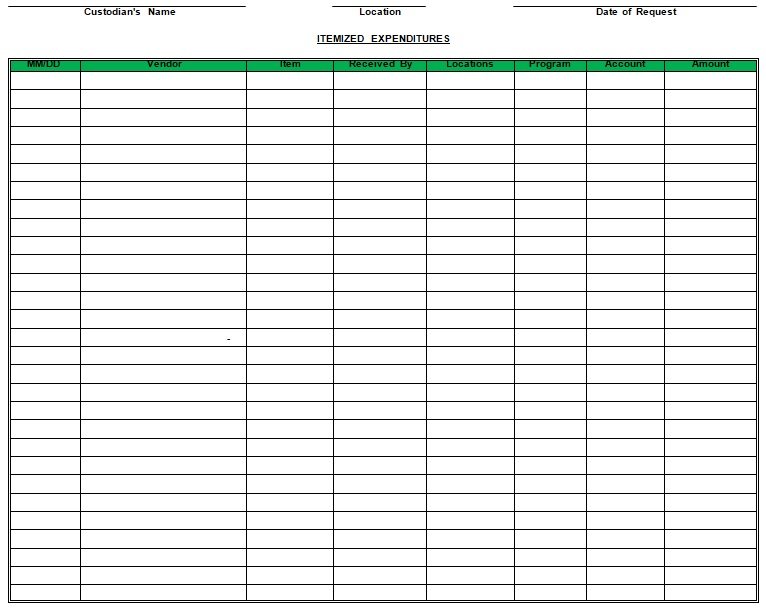 Download
Simple Petty Cash Template Excel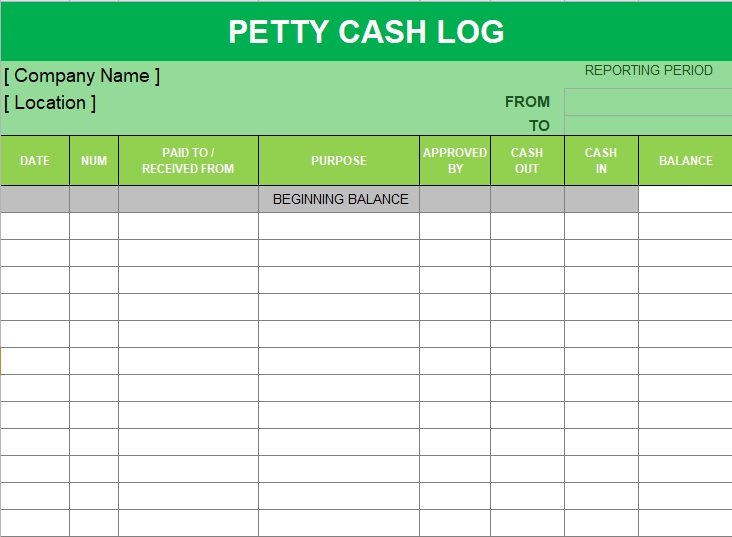 Download
Best Petty Cash Log Spreadsheet for Company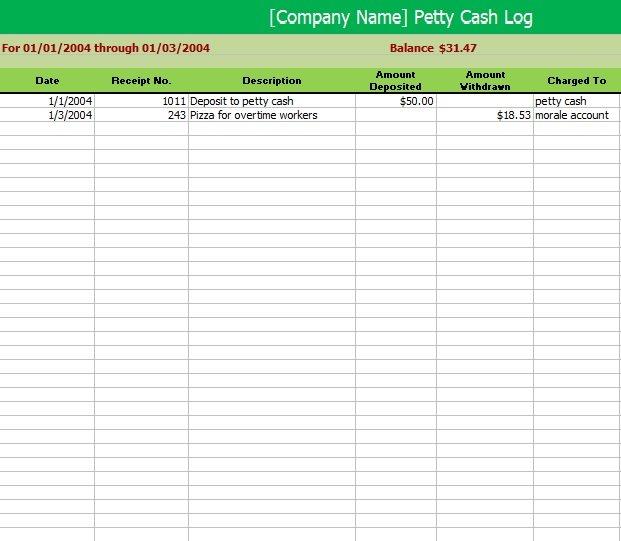 Download
Free Petty Cash Form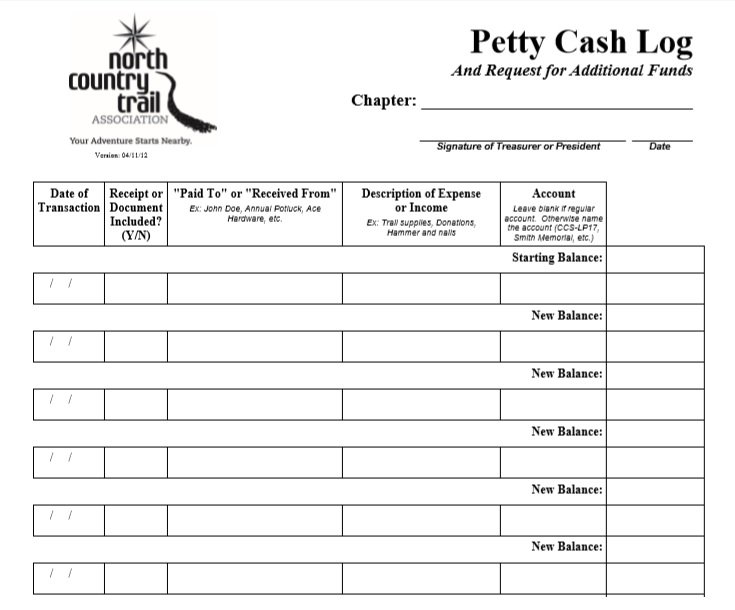 Download
Editable Cash Log Sheet PDF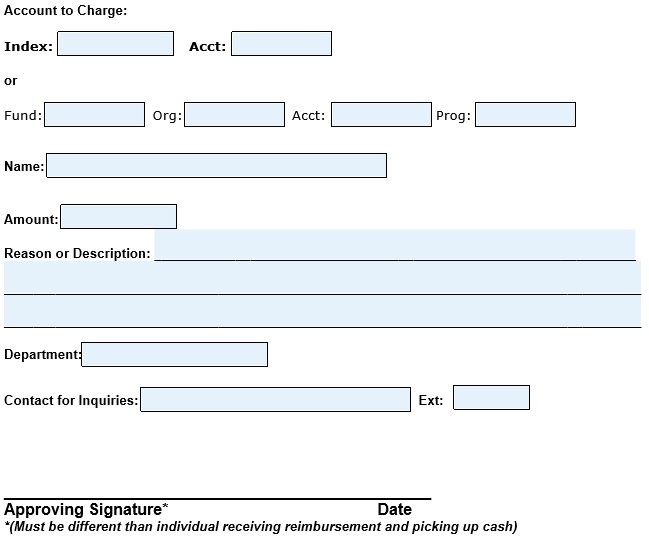 Download
Example of Petty Cash Record Sheet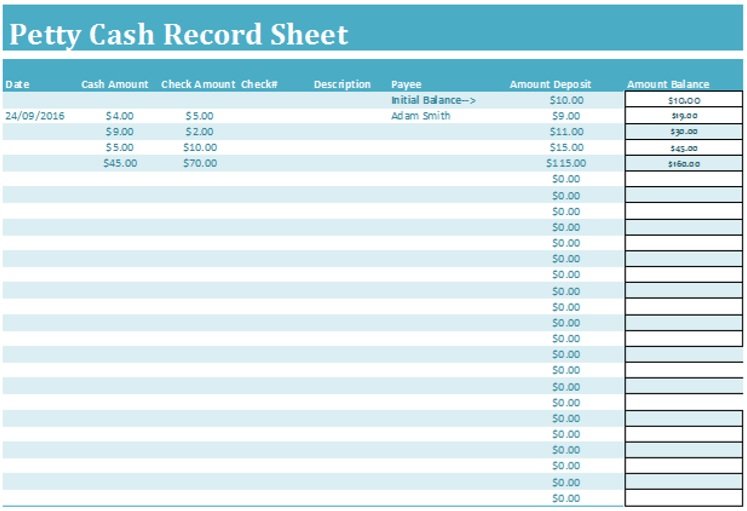 Download
Petty Cash Fund Log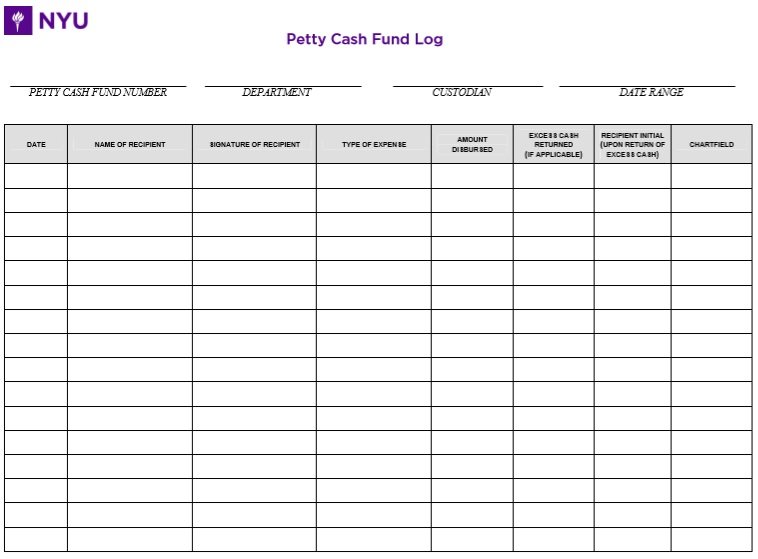 Download
Petty Cash Reconciliation Log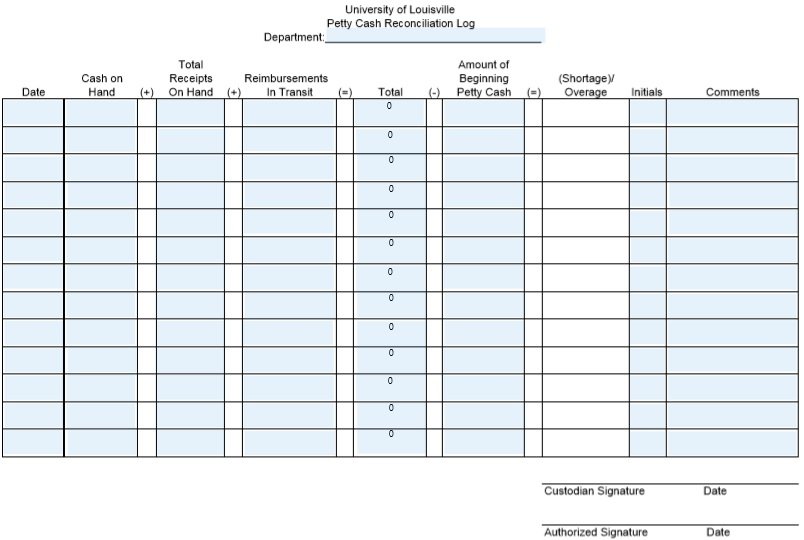 Download
Printable Petty Cash Log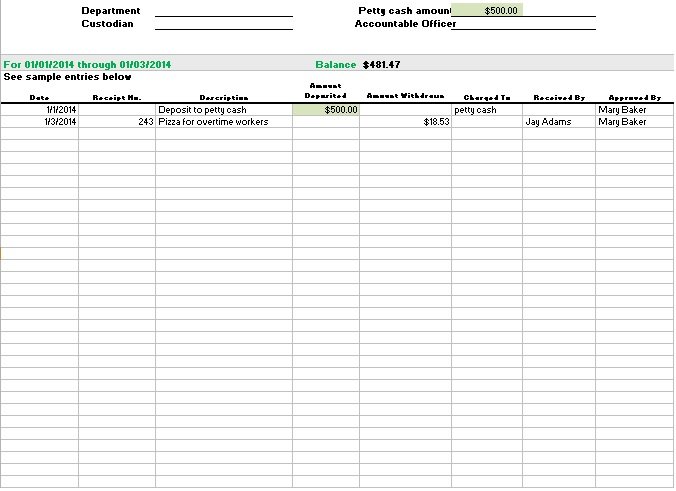 Download
Petty Cash Credit Card Log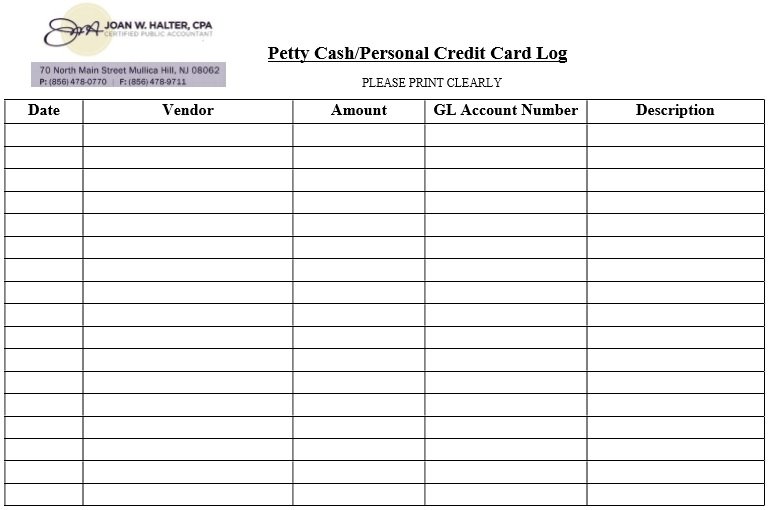 Download