A stock certificate template is a piece of paper used to represent ownership in a company. It is also known as a share certificate which represents a legal interest and ownership in a company. This certificate includes information such as shareholder name, company name, the number of shares owned, the date, unique identification number and a corporate seal and signatures.
There was a time when stock certificates were the only way to prove ownership of shares in a company. They are a bit bigger piece of paper than a normal one and mostly have intricate designs to discourage any fraudulent replications. You should also check deposit slip templates.
"Stock Certificate" A historical Thing:
Stock certificates were used to represent partial ownership in a company. These were the only way to represent ownership in a company before the online and internet brokerage completely took over the financial world. It was a physical piece of paper issues to shareholders of a company which shows the details of Stock Certificate format in word under the shareholder name in a company. But now these certificates have become a thing of the past as electronic trail has replaced the need of stock certificate to represent ownership. You may also like salary slip format in excel.
Although now it has become a lot easier to prove ownership in a company. If someone bought a share in a company through a broker. The broker will have an account with the name of the shareholder. One can still request the company to issue a stock certificate of stocks owned in a company but it's an expensive and time-consuming process due to stock certificates unique and intricate designs.
The most common electronic alternative of the stock certificate is a process known as the book-entry form. It eliminates the need to issue a physical certificate. Stock handling and record-keeping become a lot easier with this electronic method.
Information a Corporate Stock Certificate Template Should Represent:
There are some free stock certificate templates available on the internets which are used by small firms with minor customization according to business. But it is important to make sure these templates must include the following information to represent the ownership of stocks, You may also check monthly financial management report templates.
Name of Shareholder
Name of Corporation in which shares have been owned
Number of shares owned
Issuance Date
Unique Identification Numbers such as CUSIP or CINS number
Seal or stamp for authenticity
Authorized Signatures
Certificate Number for internal record
Free Stock Certificate Template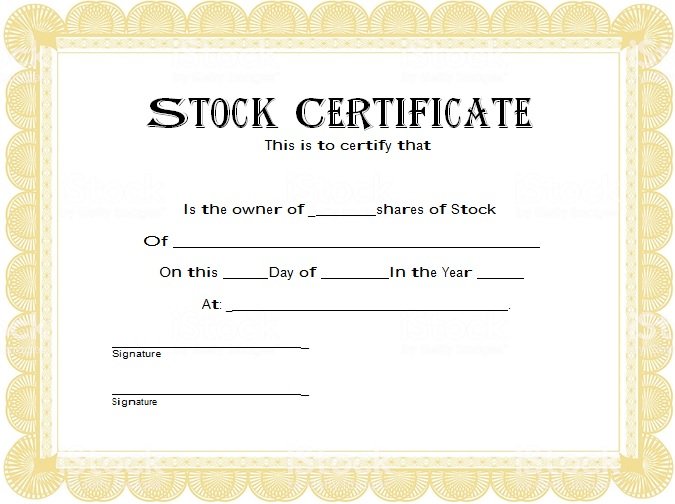 Blank Stock Certificate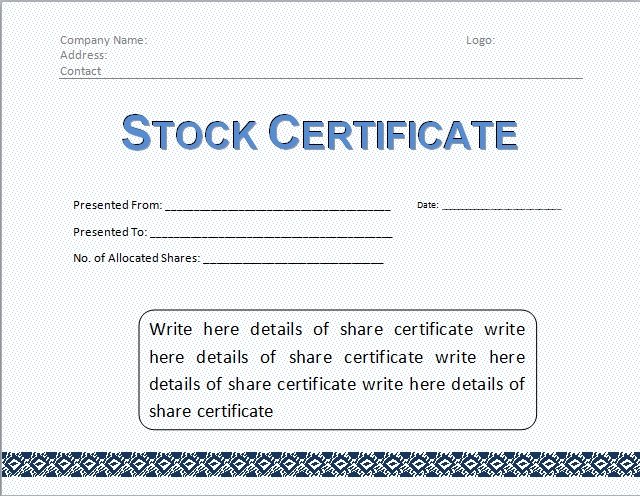 Stock Certificate Format in Word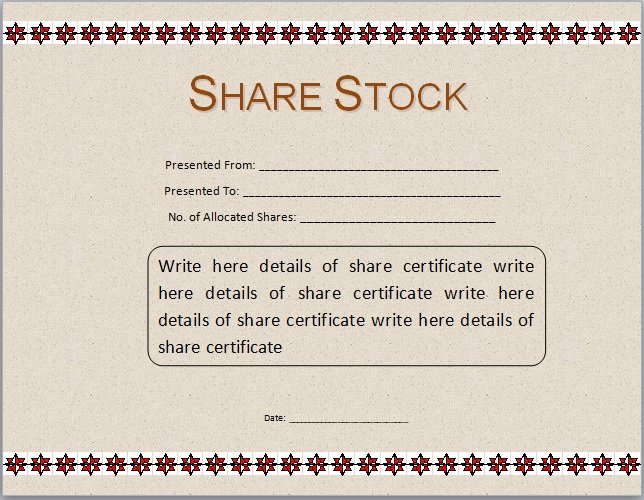 Free Editable Stock Certificate Template
Printable Stock Certificate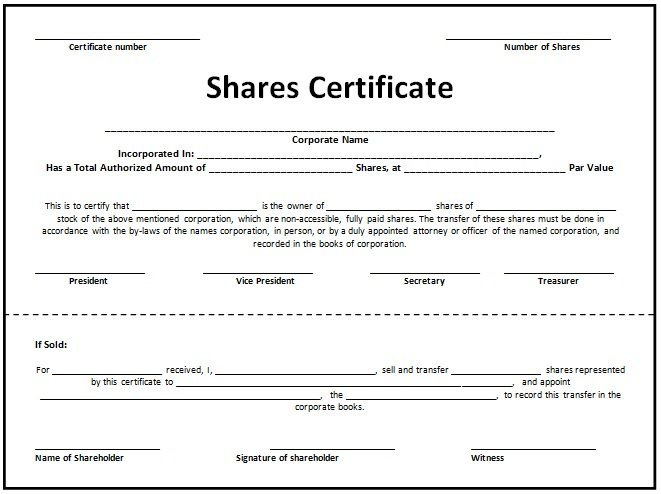 Stock Certificate Border Template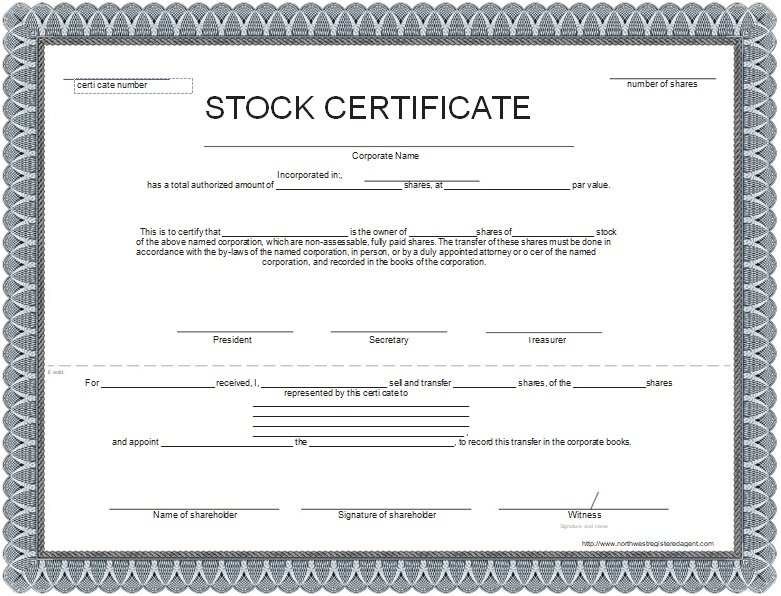 Corporate Stock Certificate Template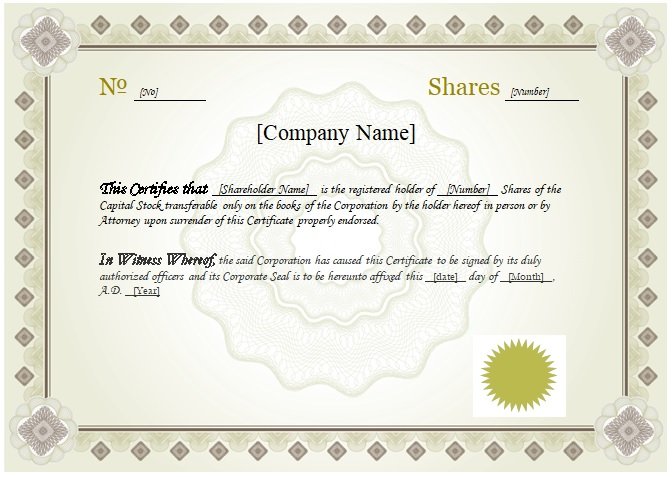 Back of Stock Certificate Template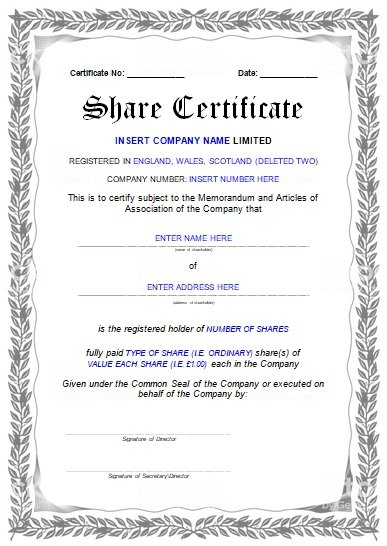 Free Fillable Share Certificate Template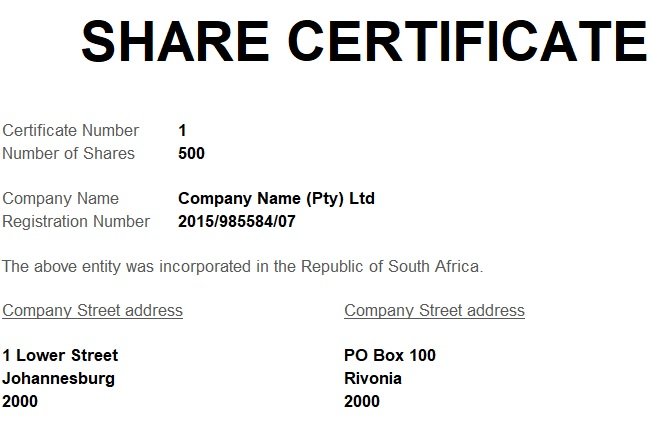 Common Stock Certificate Template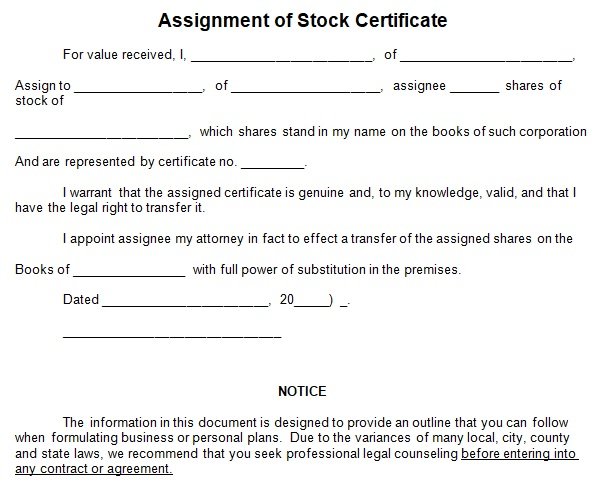 How to make a Stock Certificate Template?
Microsoft office suite comes with a lot of handy tools such as Microsoft word which can be used to make a blank stock certificate template. This blank template can later be linked with excel file having shareholders information to automatically regenerate some certificates for all shareholders using macros. Simple steps for making stock Certificate format in the word are; You may also like puzzle piece templates.
Import intricate border design for a certificate from graphics software or search for free certificate design in the search bar of MS Word.
Certificates are mostly in landscape layout. Choose a landscape page size according to border size.
Divide the page into two sections, in upper half write unique identification number and certificate number on left and right. Paste company logo in the center and write company name in a large clear font just below the logo.
In lower half write a detailed declaration for X number of shares transfer to ABC person on XYZ date holding authority signature and seal for the authenticity of the certificate at the bottom.